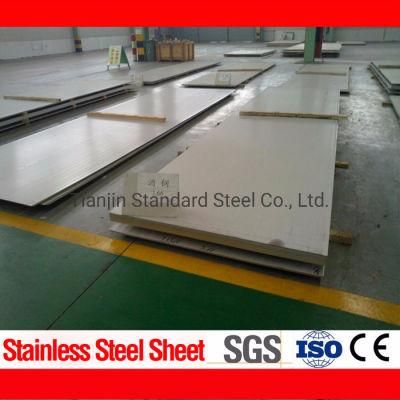 AISI 304 Ba No. 4 No. 8 Hl Hairline Mirror Stainless Steel Sheet
Shandong Standard Metal Products Co., Ltd.
Certification:ISO, RoHS, IBR, AISI, ASTM, GB, EN, DIN, JIS
Grade:300 Series
Standard:ASTM, AISI, GB, JIS, DIN, EN
Type:Stainless Steel Sheets
Shape:Flat
Technique:Hot Rolled, Cold Rolled
Transport Package:Standard Sea-Worthy Packing
Color:Mirror , Rose , Blue , Ti-Golden ,Copper
Thickness:0.4mm 0.5mm 0.6mm 0.7mm 0.8mm 1.0mm 1.5mm 1.2mm
Finish:Brushed Polished Ba Ti-Golden Blue Rose
Brand:Tisco Baosteel Lisco
Transportation:by Sea Air Train
Length:2000 2440 3000 6000 mm
Width:1000 1200 1219 1500 mm
Certificate of Origin:Available
Surface Treatment:2b Ba Sb 1d 2D No.4 Mirror 8k Hairline Ti-Gloden
Model NO.:0.5mm 0.6mm 0.7mm 0.8mm 0.9mm 1mm
Specification:1.0mm 1.2mm 1.5mm 2.0mm 2.5mm 3.0mm 4.0mm 5.0mm
Trademark:Std-steel
Origin:Tianjin China
HS Code:7219900000
Production Capacity:2000ptm
MATENSITIC
1.4006
410
205
max 600
20
200
0.08 to 0.15
11.50 to 13.50
≤0.75
≤1.50
1.4021
420
345
max 700
15
225
0.16 to 0.25
12.00 to 14.00
≤1.50
2). Specification:
Standard: ASTM AISI SUS JIS EN DIN
TK-cold rolled:

0.3, 0.4, 0.5, 0.6, 0.7, 0.8, 1.0, 1.2, 1.5, 2.0, 3.0, 4.0, 5.0mm




-

hot rolled:

3.0, 4.0, 5.0, 6.0, 8.0, 10 ,18, 20 ...70mm 80mm or as requirement


Width x Length : 4" x 8" , 5" x 10" , 5" x 20" , 1200 x 2400mm,
We can customize for you as your requirements.

3). Surface finish: 2D , 2B ,2F , BA , HL , MIRROR , BRUSHED, NO.4 , NO.8


Surface protection:

PVC coated, paper interleave, anti-fingerprint
Finish 2B, Finished by heat treatment, pickled after cold rolling, followed by skin pass line to be brighter and smooth. It is the standard surface with improved mechanical properties.

No 2D Finish
A no. 1 Finish after being Cold Rolled, Annealed, Pickled and Passivated. This results in a uniform dull matt finish, superior to a No. 1 Finish.

Suitable for industrial application, and eminently suitable for severe deep drawing as the dull surface, (which may be polished after fabrication) retains the lubricant during the drawing operation.

No. BA Finish
This is more commonly referred to as a BRIGHT ANNEALED (BA) FINISH. Material with a No. 1 finish is Cold Rolled using highly polished rolls in contact with the steel surface. This smooths and brightens the surface.

The smoothness and reflectiveness of the surface improves as the material is rolled to thinner and thinner sizes. Any annealing which needs to be done in order to effect the required reduction in gauge, and the final anneal, is effected in a very closely controlled inert atmosphere. No oxidation or scaling of the surface therefore occurs and there is no need for additional pickling and passivating.

The final surface developed can have "MIRROR" type finish similar in appearance to the highly polished No. 7 and No. 8 Finishes.

4). Technology: Cold rolled/hot rolled

5). Quality: Prime quality

6). Weight of coil: As per actually calculation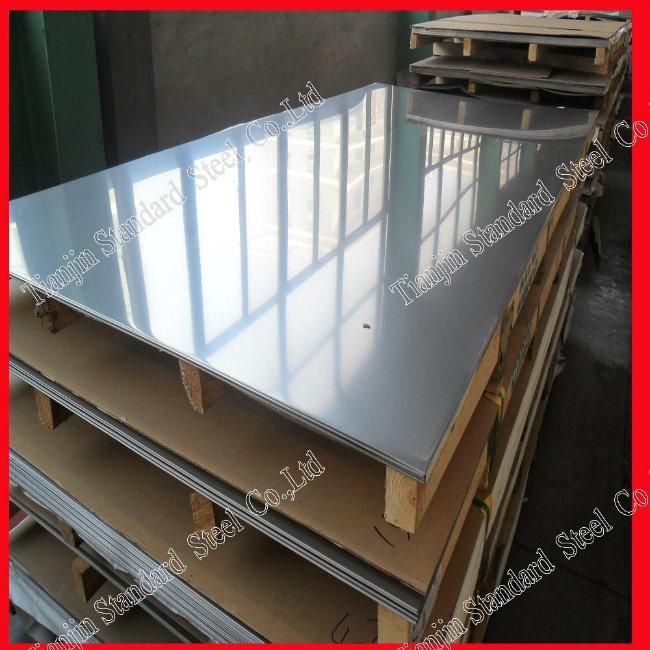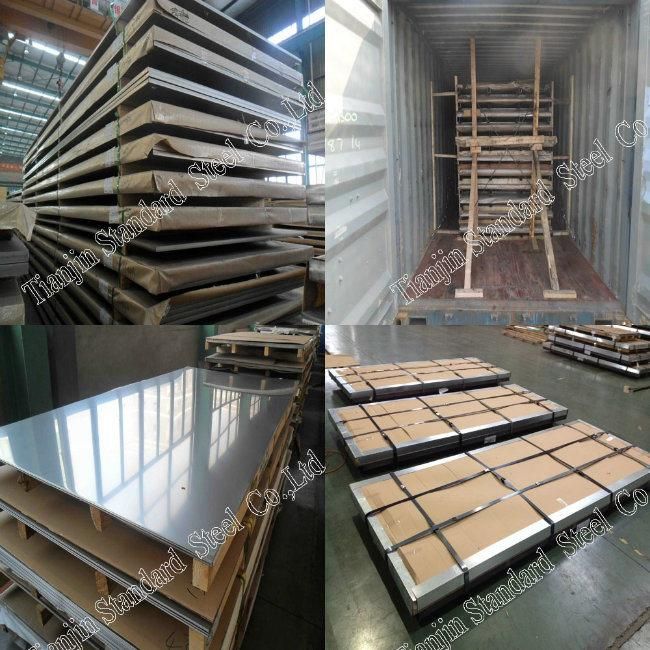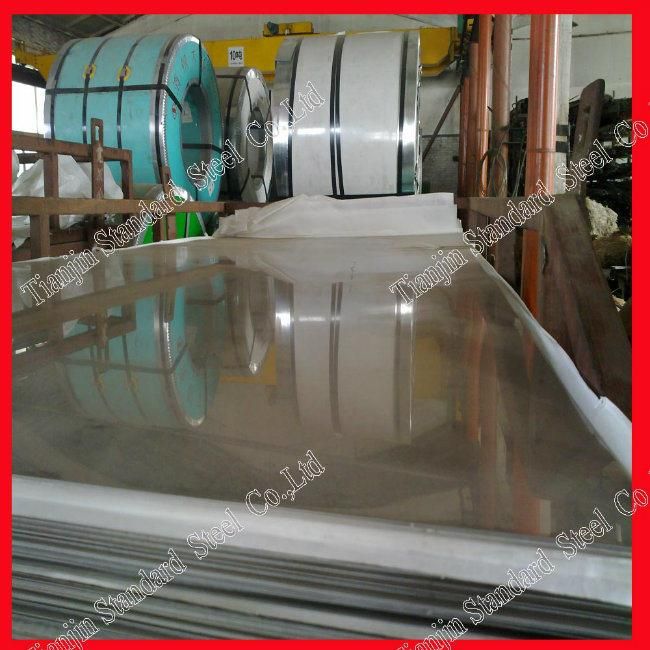 commodity

AISI 304 stainless steel/plate(finish 2B/BA/2D)

material

201, 202, 304, 304L, 316, 316L, 309S, 310S, 317L, 321, 409, 409L, 410, 420, 430, etc

surface

2B, BA, HL, 4K, 6K, 8KNO. 1, NO. 2, NO. 3, NO. 4, NO. 5, and so on

standard

AISI, ASTM, DIN, EN, GB, JIS, etc

specification

(1) thickness: 0.3mm- 100mm
(2) width: 1000mm, 1250mm, 1500mm, 1800mm, 2000mm, etc
(3) length: 2000mm2440mm, 3000mm, 6000mm, etc
(4) The specifications can be provided as clients' requirement.

application

(1) Construction, decoration
(2) petroleum, chemical industry
(3) electrical appliances, automotive, aerospace
(4) house ware, kitchen appliances, cutlery, foodstuff
(5) surgical instrument

advantage

(1) High surface quality, clean, smooth finish
(2) Good corrosion resistance, durability than ordinary steel
(3) High strength and to deform
(4) Not easy to be oxidized
(5) Good welding performance
(6) The use of diversity

package

(1) Products are packed and labeled according to regulation
(2) According to customers' requirement

delivery

within 20 working days since we get the deposit,
mainly according to your quantity and the ways of transportation.

payment

T/T, L/C

shipment

FOB/CIF/CFR

productivity

500tons/month

note

We can supply other grade products as customers' requirement.
Incoterm :


1. Payment terms : T/T ;
2. Port of shipment : Tianjin Xingang port , Shanghai port , Qingdao port ;
3. Delivery time : 15 days ;
4. Package : Iron belt fix ,load in container or bulk ;
Our advantage:


Δ

We have our professional international trade team , we can deliver the cargo on time as per the contract ; and settle the issues arising during the transportation promptly ;


Δ

Good cooperation with reputation miller , the good quality can be well guaranteed


Δ

Provide good after-sale service , we can assign the worker to install the
equipment at your site ; if the cargo is damage after reach to your company ,we can settle the problem at the first time ;


Δ

We will guarantee the quality for our client from beginning to the end .


How to make the order ?


Δ

First step , Please contact with our sales team , talked about the cargo details , if need sample , we can supply the sample for free ;


Δ

If the sample can reach to requirement , the client can sign the contract with our company;


Δ

Before shipment , client can inspect the cargo loading and seal the container , we also can accept inspection of the third party ( Such as SGS ,BV etc ) ;


Δ

After 5 days of shipment , we will send the documents of customs clearance to you ;


Δ

After get the cargo , please give feedback to us ;